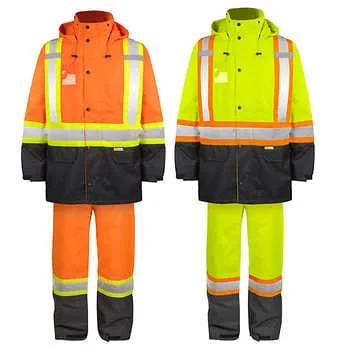 Features:
Orange and Yellow only
300D polyester oxford with PU milky coating
Fully seam sealed with 5000 WP (water pressure rating) Waterproof
Detachable hood with 2 levels of snaps to accommodate hard hat
Microphone loops on both side of chest
High-visibility reflective taping at chest, waist, sleeves and back for jacket and leg on pants
Plastic ID badge holder
Jacket lining in 100% polyester mesh
YKK zipper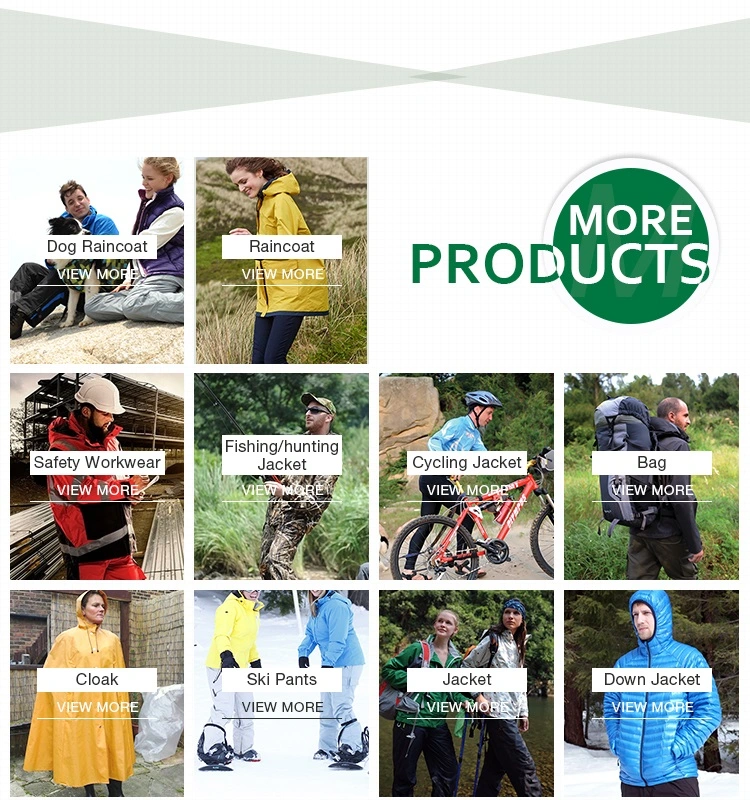 Packing & Delivery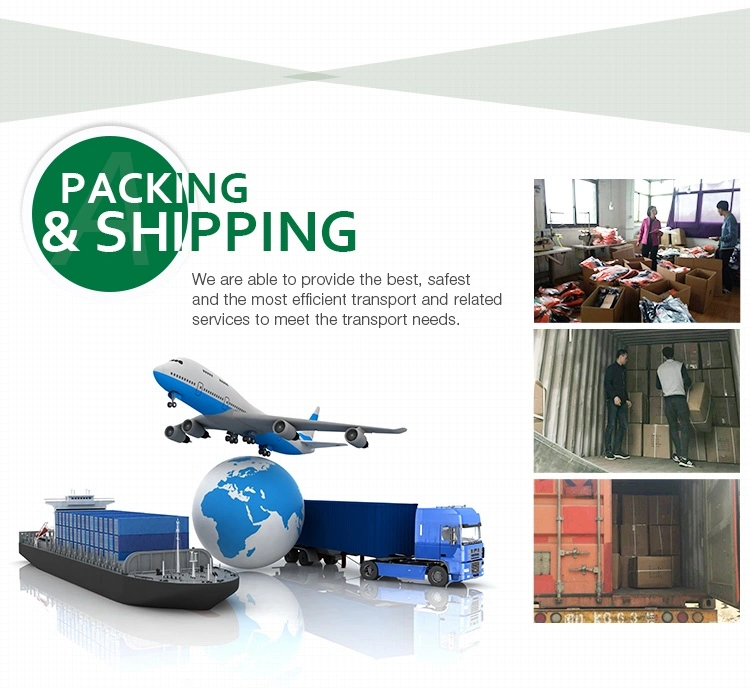 To better ensure the safety of your goods, professional, environmentally friendly, convenient and efficient packaging services will be provided.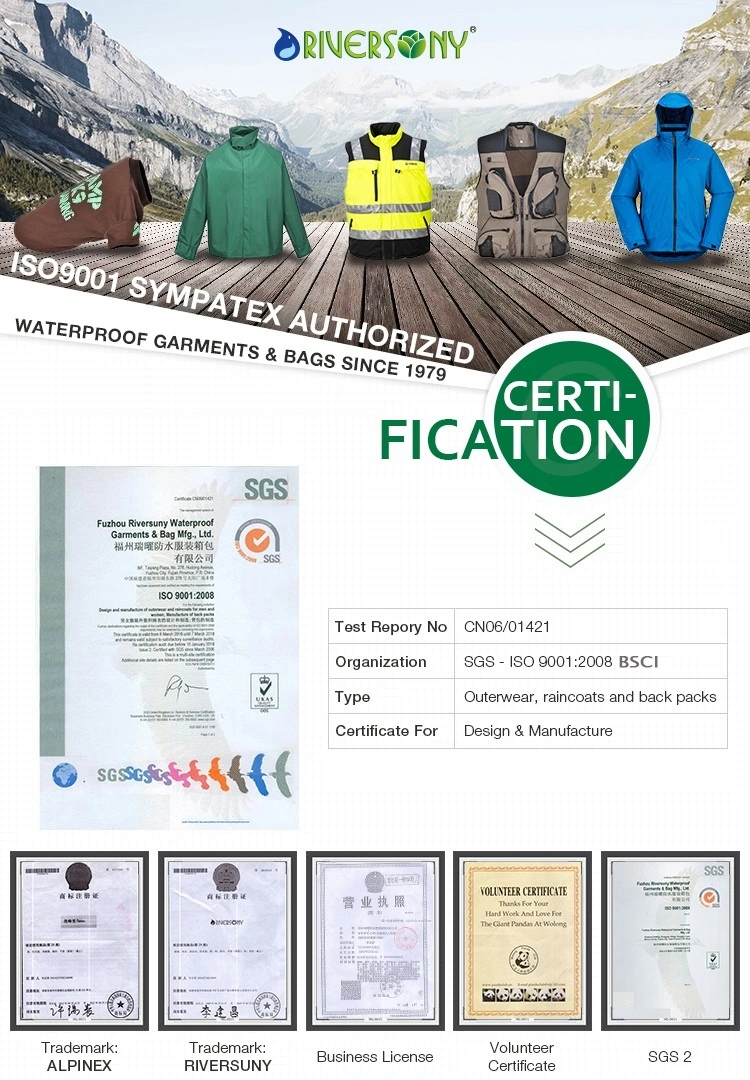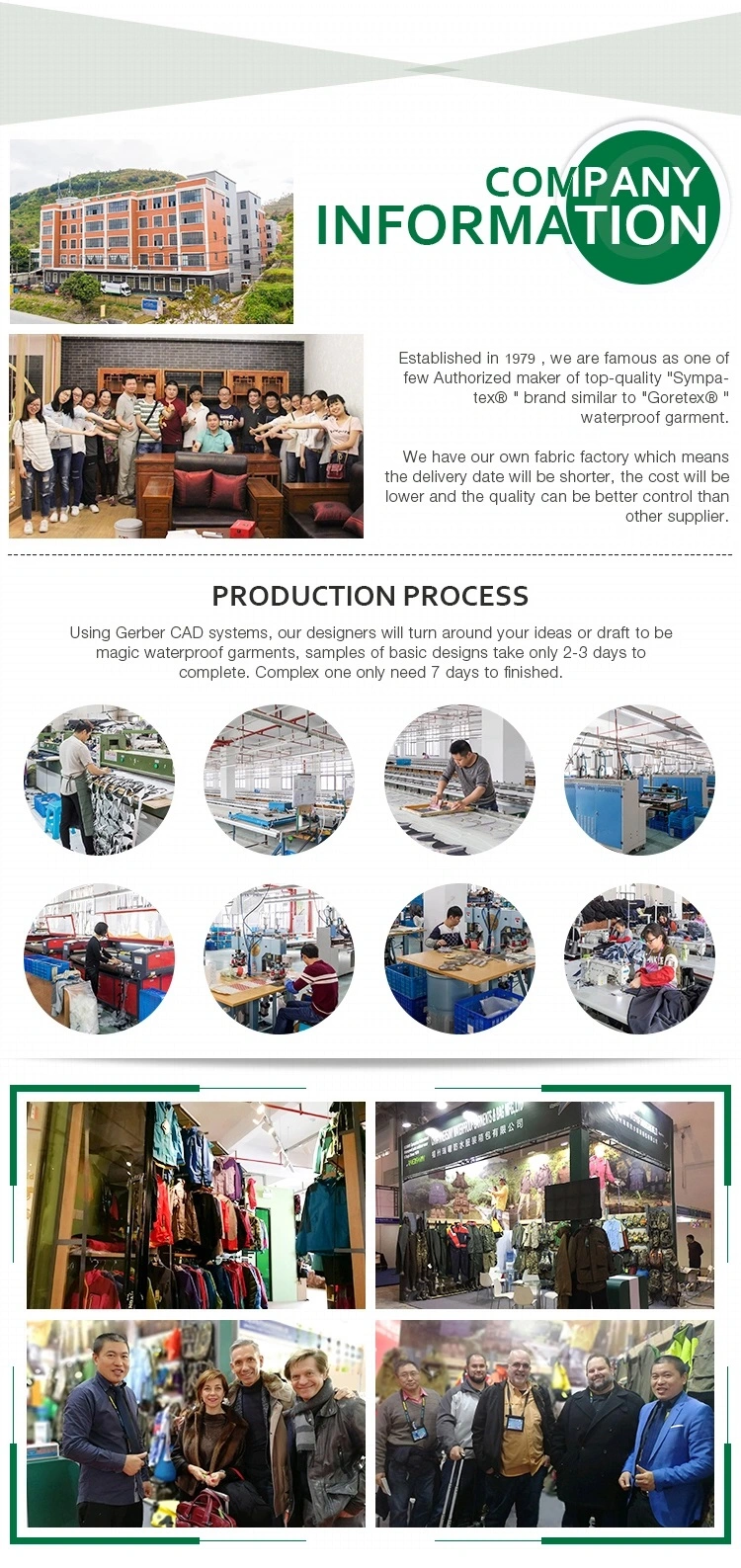 Established in 1979, with the US ERP system, thirty production lines, 5s and TQC management, 300 skilled workers, factory of 12,000 m2 (it is the largest garment and bag factory in Fuzhou, China and with BSCI certified).All operations are certified ISO9001:2008 and ISO14001.
After receiving your s/c signed, our sales transfer you to manager,We monitor our production department to send the manufacturing list to our own factory and verify specifically with our manufacturing department ---- ask the fabric factory to make a fabric sample to confirm materials and color ---- accelerate the factory to produce the pre-production sample ---- after obtaining confirmation of the high production sample -- inspect the production and follow the rate of progress.We are doing our best to ensure the best quality for you.
Our services & Advantages
Pre-sale:
1) be kind and patient with each client.
2) quick response to your inquiry within 24 hours.
3) our goal is to do everything we can to provide our customers with a pleasant experience.
4) we generally inspect every item to confirm the correct style, color, size and quality before sending the order.
After the sale:
1) your positive feedback will be crucial to us when you receive the products.
2) if there is any problem of quality and quantity, please send us the pictures as proof and we will do an investigation, if it is our mistake, we will deal with this and give you a happy solution finally.
We can't promise to solve all your problems, but we promise you won't have to face them.
Q1: what is the advantage of your company?
A1. Our company has professional equipment and professional production line.
Q2: why should I choose your products?
A2. Our products are high quality and composable price.
P3. Can the logo and color be customized?
A3. Yes, we invite you to try custom.
Q4: any other good service that your company can provide?
A4. Yes, we can offer a good after sales and fast delivery.